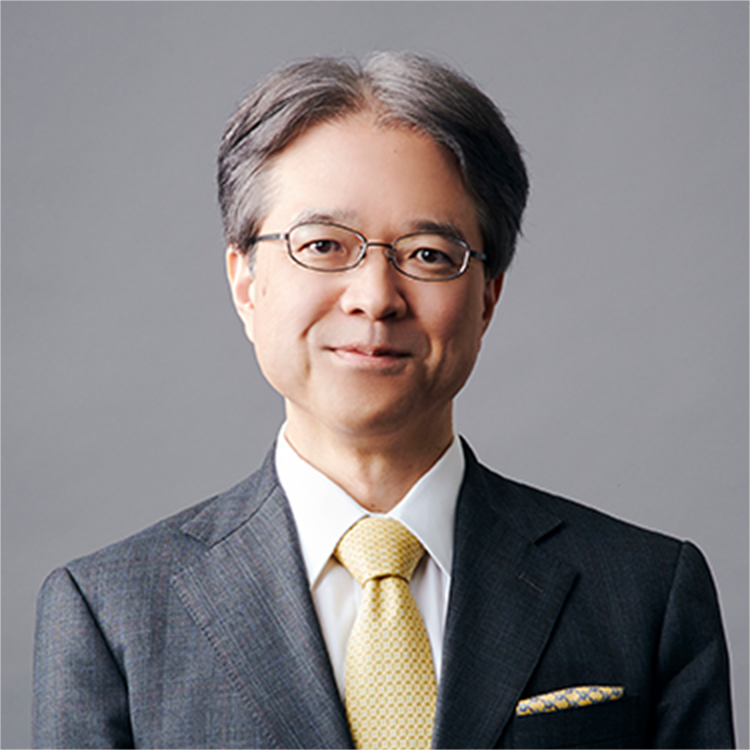 Kazutoshi Maki
Chairman
Senior Partner
Areas of expertise:
Manufacturing, Design and Development, Lean Six Sigma implementation, Operational excellence, Change management, Leadership development
What are desired transformation for companies?

In today's Japan, where everyone has a vague anxiety for the future, there is no choice but to carve out our own path. In the past, our top priority was to strive to grow and expand our scale to become an advanced country. However, the leaders are now expected to co-exist and co-prosper with the others to think and act to increase corporate value. For a company to be a complete organization with a single mind, everyone from management to employees and staffs have to act autonomous and become a team to flexibly adapt to environment.

It is a human nature to try to avoid change as much as possible and behave conservatively by maintaining the status quo. However, if we do not try to move forward while controlling our own inertia, we will not be able to keep up with changing environment, and will follow a course of decline as a result. As a partner of corporate management, we have sought to improve the value of our client companies by supporting managers with strong desire to promote innovation, and by working with employees and staffs to solve problems to produce results. We believe that developing personal talent through the experience of producing results within an organization is the royal road to transformation.
Need to have genes for change to overcome various challenges

Corporate management is facing various difficulties, which can not be resolved by conventional experience and effort anymore. Shrinking domestic demand due to the declining birthrate and aging population, limitations as a processing trade nation, and intensifying competition with emerging countries, to name a few. For instance, challenges of "globalization" cannot be overcome simply by establishing English communication. Business processes and management styles should look different for companies in different industry, business type, size and stage, and there is no common solution for all. At the same time, the reality is that there is not enough time to repeat useless trial and error without devising a clear strategy or direction. If we don't derive individual solutions faster and more accurately on the spot, we will not have a chance of surviving against emerging countries with stronger momentum.

The sincere attitude of making the best use of the corporate strengths and greedily learning what should be incorporated, was probably the Japanese virtue that supported Japan during the rapid economic growth, half a century ago. I believe that this is the gene that brings about continuous change, and a code of conduct that everyone can practice. It is our mission to support transformation, and we are proud to be able to celebrate our customer's achievements together.
Achievements
Development of system and launching the activities for corporate-wide transformation
Major automobile manufacturer

In-house consultant development for problem solving capability enhancement
Major chemical manufacturer

50% inventory reduction and 80% lead-time reduction of high-tech parts
Major materials manufacturer

Launch of new medical equipment as acting development manager
Major optical equipment manufacturer

Development of problem solvers to promote scientific management
Resort operating company

Sales force enhancement to increase contract ratio by 5 times
National electricity company

Lean Six Sigma implementation and leader talent development
Global automobile parts manufacturer

Operational excellence activity launch
Global pharmaceutical company

Lecturer for "Special lecture on (medical) frontier talent development" (2020 - )
Kyoto University graduate school

Supported more than 120 companies for Six Sigma related projects and others.
Profile
After working on corporate business transformation initiative 'Six Sigma' at GE Yokogawa Medical Systems Ltd. (Now GE Healthcare Japan Corp.) as a start up member, Maki became a management consultant at Sanwa Research Institute Corporation (now Mitsubishi UFJ Research and Consulting Co., Ltd.) and worked for other global consulting firms before starting up Genex partners Co., Ltd..
With an aim to revitalize Japanese companies, Maki helped clients achieve results and develop talent in the course of organization transformation at Genex partners.
Maki worked with clients from Japan and overseas in various industries such as major automotive manufacturer, electronic parts manufacturer, air-conditioner equipment manufacturer, electricity company, restaurant chain company, major department stores and medical institution.
Maki has been serving as a Japanese committee member of ISO TC69/SC7 (committee for application of statistical methodology for Six Sigma) since 2012 and he is an active advisor for Yokohama City University Graduate School of Data Science Research Department.
Contributions
"Guidance for Lean Six Sigma implementation design"
Monthly publication ISOS, August 2018 issue (No.249)
Special issue: Standard trends and countermeasures for the universal language 'Six Sigma'

"The 4th Industrial Revolution guided by manufacturing big data"
Nikkei Information Strategy, July - December 2015 (6 issues)

"Hint to regenerate the lost Gemba Kaizen ability"
@ITMONOist, 27 February - 21 May 2008 (6 issues)

"Digitize and visualize corporate non-financial information"
Nikkei Business Publications Finance IT Innovation 2007 Vol.2, November 2007

"The Change Agent - Transformation DNA research"
Nikkei Business Online, 26 May 2006 - 18 January 2007 (25 issues)

"Ready to use management reform methodology, Six Sigma"
Nikkei Computer, 2005 first issue, ITpro, 2009
Publications
"Illustrated Lean Six Sigma"
Diamond Inc.

"Illustrated easy to understand Lean Six Sigma"
Diamond Inc. *Chinese translation available

"Illustrated Six Sigma to utilize customer voice - Sales/Service edition - "
Diamond Inc. *Korean and Chinese translation available

"Forget old Six Sigma"
Diamond Inc. *Korean translation available

"Introduction to Lean Six Sigma for Quality Manager"
Japanese Standard Association *Co-author

"Impact of Industry 4.0"
Yosensha Co., Ltd. *Contribution

"Jack Welch And The 4 E's Of Leadership"
Diamond Inc. *Supervised translation

"Illustrated Six Sigma Way of 'Problem Solving Style' hospital management to make 'Strong Gemba'"
Japan Medical Planning

"Collection of revitalization and reorganization cases 2"
Shojihomu Co., Ltd. *Contribution

"WAY's gene"
Takarajimasha Inc. *Supervision
Lecture
- "Introduction to Lean Six Sigma for Quality Manager" publication memorial lecture
(Sponsored by Japanese Standard Association)

- Forget the old 'Industry 4.0'!? - Take actions for value creation -
(Sponsored by Nikkei Business Publications Inc. "Factory 2016")

- Impact of 'The 4th Industrial Revolution' to the automotive industry
(Nikkei Business "Next generation automobile 2015" publication commemorative seminar)

- Industry 4.0 and the direction of Japanese manufacturing
(Sponsored by Nikkei Information Strategy "Manufacturing big data seminar")

- Practice of problem solving by Lean Six Sigma

- How internal audit should be in business reform by turnaround management
(The 37th Internal Audit Promotion National Conference)
TV
Business Break Through
Management course "Six Sigma"
Moderator
CEO's Mission
"Leadership Transition"